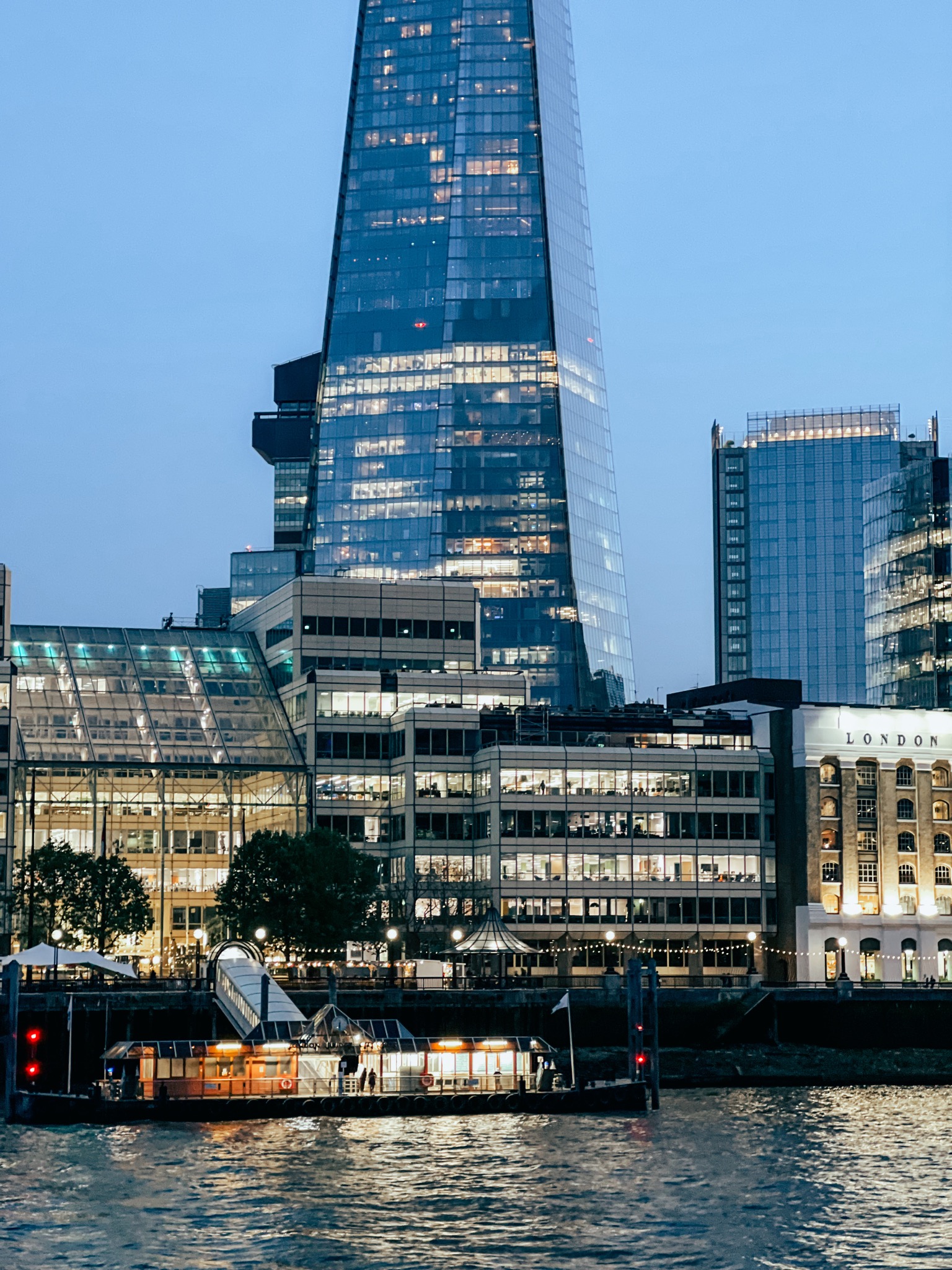 5 Things To Do In London
It seems clear to me that London is the best city in the world (a bold statement, I know). I have been lucky enough to live in both Putney and Notting Hill, so I wouldn't be offended if you said I was biased. But what if I told you that the New York Times agrees with me? Londoners rejoice as their city has officially been named the best in the world to visit in 2023.
There has never been a better time to explore England's capital. To help you plan your time, I've come up with 5 things you shouldn't miss on your next trip to London…
Stroll along the Southbank
Although these features aren't in order of favourites, I have made an exception for number one. A riverside walkway with fantastic views and exciting tourist spots, the Southbank is one of my favourite places in the city and one that I make sure to show London newbies.
Hop off the tube at Embankment and walk over Hungerford Bridge. If you're a fan of photography or want to take a quick selfie, make sure to stop and snap a photo of the iconic London skyline. You'll be able to marvel at the Houses of Parliament, Big Ben, St Pauls, the London Eye, the Shard and other London beauties.
Stroll along the Southbank where you'll find attractions such as the Southbank Centre, the National Theatre, the Oxo Tower, and the Sea Life Centre. If you go a little further along towards London Bridge, you'll see the Tate Modern and the Globe. Top tip: there is a free viewing gallery at the top of the Tate Modern where you can soak in more of London's awe-inspiring views. Be sure to pop into some of the world-class exhibitions as you head back down.
I would highly recommend a stop at the Founder's Arms. A riverside pub serving excellent food and drink on the banks of the River Thames… what more could you want?


Grab a bite at Borough Market
Located in Southwark (London's oldest borough!) and not far from the impressive Tower Bridge, Borough Market plays host to a wide variety of food and drink stalls.
If you're travelling by tube, the best stop for Borough Market is London Bridge Station. A short walk from here and you'll find yourself immersed in the hustle and bustle of the market. Get lost in the warren of stalls, take in the aromas of an array of cuisines and the cries of market sellers echoing around the ancient buildings. Did you know that Borough market is said to be over 1,000 years old?
You can grab something for lunch such as fresh paella, risotto, wraps, or pasta. Or opt for an artisanal take-home buy such as organic flour or local cheese. My all-time favourite stop, however, is Humble Crumble: a London-based dessert chain with a stall in Borough Market. An ingenious idea if you ask me, they serve crumble to-go with a multitude of toppings. Choose from a few different fruit options (such as apple and mixed berry) and then load it up with crumble mixture and homemade toppings including hot vanilla custard, ice cream, clotted cream and toasted marshmallow! If you're feeling truly decadent, top it all off with an extra such as rose petals, almonds, or hazelnuts. My mouth is watering just typing this…
Tour Notting Hill
I think I'm the only person in the world not to have seen the film Notting Hill; it's on my list, I promise. If you visit the West London district in person, you'll spot filming locations such as the Notting Hill Blue Door and The Travel Bookshop. But there is so much more to the area than its cinematic presence.
I would recommend that you get off the tube at Notting Hill Gate and walk down Pembridge Road, turning left at the first opportunity to meet Portobello Road (have a pint in The Sun in Splendour as you walk past, it won't disappoint!). This will allow you to see some of the pretty colourful houses before you get to the touristy end of the route. Look out for the blue plaque at 22 Portobello Road to learn about George Orwell's time in the area.
Further along the road, on market days, wonderful antique stalls spill out from the pavements and you can browse vintage ceramics, books, trinkets, clothing and more! Don't miss Coffee Plant for tasty drinks to keep you going as you browse.
If you're feeling decadent, book a ticket to the Electric Cinema to catch a new (or old) film in style…

Visit Hyde Park
Let me tell you about my favourite walk in London.
In fact, this would be easy to combine with your trip to Notting Hill! Starting at Notting Hill Gate tube station, grab a hot drink from any of the local coffee shops (for me, a walk just isn't the same without a chai latte in hand) and head on over to Kensington Palace Gardens.
A truly beautiful and unique road, Kensington Palace Gardens is lined with embassies from all over the world – kudos to you if you can name each one from its flag! The buildings are all different, tailored to the distinctive architectural styles of the countries.
From here, turn left into Hyde Park and ta-da!, there's Kensington Palace. Fun fact: Queen Victoria was proclaimed Queen at Kensington Palace and also met her future husband, Prince Albert, there. Head up past the Round Pond and through Hyde Park to the Serpentine, a recreational lake created in 1730.
You'll find the Serpentine Gallery, the Princess Diana Memorial Fountain, pedal boats, a waterside restaurant and even swimming opportunities! The lake itself is home to a host of wildlife that you can observe from one of the many benches on its banks. In the summer months, treat yourself to an ice cream or warm yourself up with a hot drink in the winter.
Fancy a little more walking? The Royal Albert Hall and the Albert Memorial are only a 10-15 minute walk from the Serpentine and worth seeing if you're in the area.
Have dinner out
London is a fantastic city for dining out. Rumoured to be around 20,000 restaurants in the city, you'll be spoilt for choice when deciding where to go for your next meal. Choose from cuisines such as Italian, Turkish, South African, Vietnamese, Greek, and Japanese and enjoy the different flavours that London has to offer.
My favourite restaurants recently (I'm a big pasta lover) have been Circolo Popolare and Tavolino. One of Big Mamma Group's most popular eateries, Circolo Popolare has been receiving more attention than ever after going viral on social media. Its interior decoration is special: coloured bottles line bespoke archways right up to the ceiling where they meet a beautiful cloud of wisteria and other plants that delicately hang from above. Twinkling lights illuminate the dining space while you feast upon some of the best pizzas in the world: Circolo Popolare has been voted as the 3rd best artisan pizzeria in the world by 5o Top Pizza. Sister restaurants that are equally outstanding include Ave Mario, Gloria Trattoria and the upcoming Jacuzzi.
Another popular spot is Tavolino, a restaurant with panoramic views of London and a front-row seat to sit and gaze at the beautiful Tower Bridge. Each time I dine here I try a different main but you'll never convince me to stray from my Bianca Pesca cocktail and the zucchini fritti to start.